Blog

<< PREVIOUS | NEXT >>

I Finally Pieced Together WHAT I WANT in Life................

Sep 18, 2011

So…

I watched Discovery Atlas – India Revealed yesterday
and have decided what I want.

I want to build an establishment similar to

The Parmarth Niketan.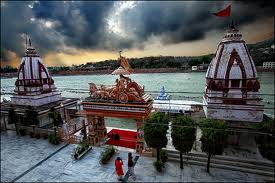 It's an ashram situated in Rishikesh, India. (Himalayas)
My favourite aspect is the Parmarth Gurukul.
A center of learning for orphaned and underprivileged boys
where they're trained and educated with basic academics,
intensive Sanskrit and ancient Vedic texts.
Their days are filled with yoga, meditation, Vedic chanting, reading of scriptures and core programs focused on saturating their lives in the essence of
values and ethics.
Throughout my life, I've always had hints of some kind of self-sufficient "safehouse" I wanted to build – for kids (that's why I don't want any of my own, I want to help the ones already out there, by the MASSES!), victims of trafficking (new addition) and people who are just going through tough times who simply need a roof over there head and a place to sleep and shower (basic necessities) so they can (at least) attack the world with dignity on their side.
I've been trying to figure out a location.
My first thoughts were to open a "compound"
~ as I jokingly call it with my friends ~
In Freeport, Bahamas.
My hometown.
However, I think I'll be slapped with a bunch of red tape.
It would sadden me to do it elsewhere, but I must do what works best
for the vision.
I took a walk today, in the early am, under the drizzling rain.
After about 40 mins, my ears became sensitive to the cold, but bearable.
As usual, I had my earphones in. When I'm in deep thought, I lock my sight onto the pavement and flow tunes through my ears.
If you asked me which songs played, at the end of my walk
I couldn't tell ya.
It's just the way I balance all the chaos in my mind.
Depending on the mood and what's going on in my head
I'll just repeat a track.
Yes, over and over
And OVER until my thoughts are settled and complete.
The rain was soothing. Water in general tends to heal.
Ever realize that?
Every bead that splashed my forehead was like a blessing of hope.
More and more of my vision's actually piecing together…
in my head.
Once it's all in place, I'll have a proper target to aim for
and that's when the real journey will begin.
(And when I can stop feeling so lost)
I won't have a spiritual aspect connected to my "compound"
but I DO want it to serve as a sanctuary for peace, integrity,
virtue, purity, dedication and love.
Shut up.
Yes, sounds corny huh?
If we must build a better world, we must work with its present and future
cuz trying to change and fight what's already out there…
is a mystifying battle I can't seem to wrap my head around solving
(which I've been hurting my head over for years)
that doesn't include simply puttin' a bullet into the head of a buncha
cruel, heartless and useless mutha fuckers.
(excuse the language)
And what better start, then saving those in need and sending them out into the world, complete, grounded and educated?
Only thing I see wrong, let's say UNFORTUNATE, is the Parmarth Niketan
only takes boys.
So, maybe I'll be his reverse
and take all the girls.
I don't get how one can blank out a gender.
Anyways, that's me for the day.
Here's a clip from India's Discovery Atlas Revealed.
Oh yeah, and I'm not going to require you rub yourself in cow urine and shit. There, now WHO'S "Ashram" would YOU rather go to?
:)
Cute kids, watch the clip.
Thanks for stopping in.
**MuAh**